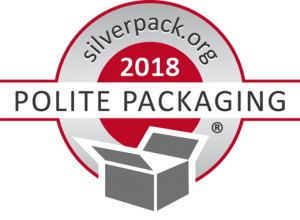 In 2019 two products were awarded the label "Polite packaging" in silver.
---
visiomax
dm-drogerie markt GmbH + Co. KG
DE-76185 Karlsruhe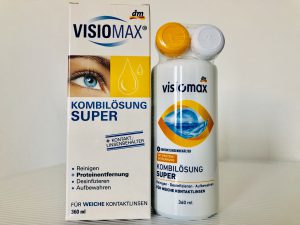 dm has courageously changed the packaging of its contact lens care series. Previously, the product and lens case were packed in a folding box. The folding box has now been replaced by a wafer-thin sleeve packaging. The following advantages result from this:
Customer information: The customer sees what he buys: Product + contact lens case. When repurchasing, the customer can orientate himself by the bottle he knows.
Tamper safe: The sleeve encloses the bottle and contact lens case. Thus for both parts a tamper safe solution is obtained.
Easy opening: The contact lens container can be removed with a small due to a perforating of the film. There is no need to open and dispose of the folding box.
Sustainability: Previously, the bottle had a folding box and a label attached with adhesive. The folding box including its printing inks is now no longer required. The sleeve film printed with product information does not require adhesive. The new packaging therefore saves raw materials, printing inks, labels and adhesives, a clear plus for the environment.
In summary: dm had the courage to replace a folding carton that appeared to many customers at first glance to be environmentally friendly with a modern sleeve packaging. The jury has come to the conclusion that this has made the packaging more sustainable. In addition, it offers the customer clear advantages. The packaging of dm's visiomax contact lens care series may therefore bear the "Polite Packaging" award.
Excerpt from the winners video 2019
---
The ShellBox
The ShellBox Team
DE-81735 München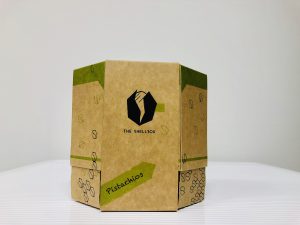 The ShellBox, a packaging for pistachios, is the result of a semester project of five students:
Leonie Strohbeck
Ramona Rabl
Caroline Jaap
Jessica Hofmann
Antonia Krapf
<nbsp;><nbsp;>
The multifunctional folding box inspires with many polite details: it initially functions naturally as packaging. After opening, you discover a serving bowl. And finally, The ShellBox also takes back the empty pistachio trays. It is ideal for on-the-go consumption. In addition, the packaging appeals to the play instinct through its constructive details and is therefore even entertaining.
In summary: The ShellBox is an innovative and attractive folding box with distinctive polite features. The ShellBox is therefore awarded the "Polite Packaging" label.
<nbsp;></nbsp;>
Excerpt from the winners video 2019
---
The Jury
Dr. Gundolf Meyer-Hentschel, Meyer-Hentschel Institute, Zurich | Saarbrücken (Chairman)
Alexander Wild, Chairman of the Management Board of Feierabend AG, Frankfurt
Dr. Hanne Meyer-Hentschel, AgeSuit Germany, Saarbrücken
Dr. med. Ruth Stüben, CH-Kilchberg
35 packagings were submitted or nominated for the Polite Packaging Award 2019.