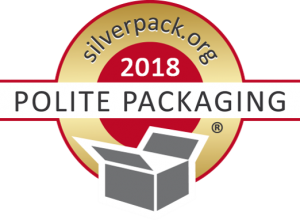 For the 10th time, the SilverPack Award "Polite Packaging" was awarded in 2018.
SilverPack honors packaging that is particularly consumer friendly.
---
ONE UP
rlc packaging GmbH
DE-30169 Hannover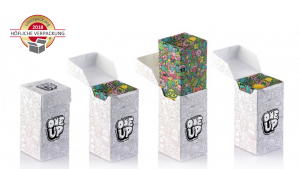 ONE UP: A packaging solution that scores on all the required dimensions.
The contents of the package – e.g. tablets, candies, chewing gum – can be removed individually by simply pushing up and down the inner part. With minimal effort and dexterity, and fun because the contents appear as if by magic.
This form of product removal is also hygienic because the remaining content remains in the package.
The complete packaging concept is made of natural raw materials and biodegradable. Even the stamp on which the product appears for removal was made from food-grade fiber injection molding.
In summary: ONE UP is a packaging solution that is polite in many ways. Polite to the content, to the environment and polite to the consumer. And in addition, the packaging conjures a smile on the face of the user. That too is polite. ONE UP is therefore awarded the SilvePack 2018 in gold. All products and brands that use this packaging may use the label "polite packaging" .
---
Packaging for medicines
Druckerei Bauer GmbH
DE-74629 Pfedelbach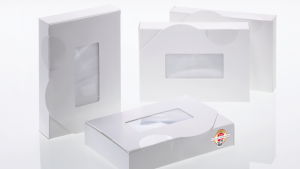 The Bauer printing house has systematically considered the optimal drug packaging for the elderly.
The carton has a large grip tab on the lid. This tab can be used to lift the lid while opening a perforated security label.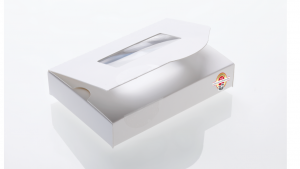 Only then can the packaging be opened on the sides. You will find an optimized locking mechanism that requires far less strength and dexterity than you would expect from conventional drug packaging. This is u.a. reached by a big finger hole. In addition, the packaging dispenses with dust flaps, which normally make access to the product more difficult and often also lead to damage of the packaging during the opening attempt.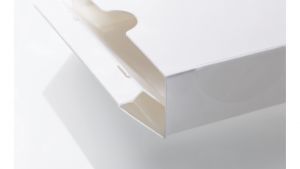 An interesting detail is the magnifying glass integrated in the lid. It can help to read the packaging label and package leaflet. As a secondary benefit, it can be separated from the packaging and used elsewhere. This separation is also useful for the correct recycling of the plastic loupe.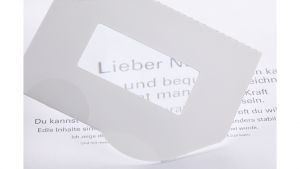 In summary: Druckerei Bauer GmbH uses this packaging to show that very meaningful and feasible solutions can be found by systematically dealing with the needs of the target group. The submitted packaging offers a wealth of user-friendly details and is therefore awarded as "polite packaging" in gold.
---
And here's the silver award winners …
­
---
Jury:
Chairman: Dr. Gundolf Meyer-Hentschel, Meyer-Hentschel Institute, Zurich | Saarbrucken
Alexander Wild, CEO Feierabend AG, Frankfurt
Dr. Hanne Meyer-Hentschel, AgeSuit Germany, Saarbrucken
Dr. med. Ruth Stüben, Zurich
---
31 packages were submitted for the SilverPack Award 2018.
Branch distribution: 13 food, 11 household, 2 pharma, 2 technology, 3 others